WE HAVE TWO ADULT STALLIONS
BOTH ROYAL WELSH WINNERS
CADLANVALLEY BUZBY WAS THE HORSE OF THE YEAR SHOW WELSH SECTION B SIRE OF THE YEAR 2022
(THIS AWARD HAS BEEN WON PREVIOUSLY A NUMBER OF TIMES BY HIS SIRE RUSSETWOOD ELATION)
CADLANVALLEY STUD WAS AWARDED THE HORSE OF THE YEAR SHOW WELSH SECTION B BREEDER OF THE YEAR 2022 & 2023
(WE HAVE SECURED THIS AWARD A FEW TIMES OVER THE LAST 10 YEARS )
*************************
NEWSFLASH
AI by Frozen Semen now available for Cadlanvalley Buzby
A shipment will leave UK for Australia and New Zealand in September 2019 There is also a supply in Ireland if interested please get in touch
***************
Our stallions do not stand at Public Stud
Frozen semen is available by AI for Buzby from April 2019 onwards .He has the most amazing temprament so would be an ideal sire for crossing to produce Dressage ponies as he is a natural free mover with elevated paces. If anyone is interested then please do get in touch
***************
2004-2017
A very sad loss of a tremendous stallion
RUSSETWOOD ELATION
Sire: Eyarth Troy
Dam:Telynau Firefly
Sire of Royal Welsh champions and HOYS ridden Champions
His HOYS Qualifying sons and daughters to numerous to mention
Sire of Multi Medalling WPCS Ponies
HOYS Welsh B Sire of the Year 2017 & gaining us Breeder of the Year at HOYS 2017 & 2018
Winner of the Paddock Trophy for the WPCS In hand Sire Ratings 2018 also winner of the Teify Trophy for the WPCS Ridden Sire Ratings 2018
His first foal Cadlan Valley Georgette big winner as a foal including Supreme Ch. Royal Welsh Winter Fair 2007
Overall Yearling Champion & Reserve Champion Section B Lampeter Stallion Show 2008
Youngstock Champion Royal Welsh 2008
Also sire of Cadlan Valley Georgia 1st Sec B filly foal class Royal Welsh 2008 & overall section B Champion, reserve Tom & Spritely, reserve cuddy RWAS 2011. Also winner of the Brightwells Youngstock championship, National Welsh Malvern.
Reserve Champion Royal Welsh sire ratings 2008 at only 4 years old
************
CADLANVALLEY BUZBY
Now available AI By Frozen Semen please enquire
Supreme Champion in hand and under saddle
2009 sire: Russettwood Elation, Dam: Stockham Domino by Rotherwood Secret Agent
HORSE OF THE YEAR SHOW WELSH B SIRE OF THE YEAR 2022
***************
2018 Reserve Overall Champion at Olympia, Best of Breed Welsh B tied  on marks with the Champion. Ridden by our granddaughter Libby who also won the Heniarth Trophy for the best Junior rider
Horse of the Year Show 2016 Overall Ridden M and M Champion
Royal Welsh Ridden Supreme Champion 2016
Winner of the Welsh Sec B ridden pony of the year at HOYS 2014
Three times Brynseion Final Winner at the Welsh National Championship Show
Reserve Overall Champion by one mark and Best of Breed Olympia 2018 and winner of the Moelgarnedd Trophy
***************
Wins as a Foal 2009
1st Royal Welsh Winter Fayre 2009
1st NPS Area 29 2009
Wins as a Yearling 2010
1st Yearling Colt Lampeter Stallion show & Best Sec B Yearling
1st Cothi Bridge
1st Aberystwyth
1st Ceredigion WPCS Summer Show
1st & Champion Fishguard, Bronze Medal Show
In hand Welsh B Champion and Supreme of Show Glamorgan WPCS Spring Medal Show 14 /04/ 2018.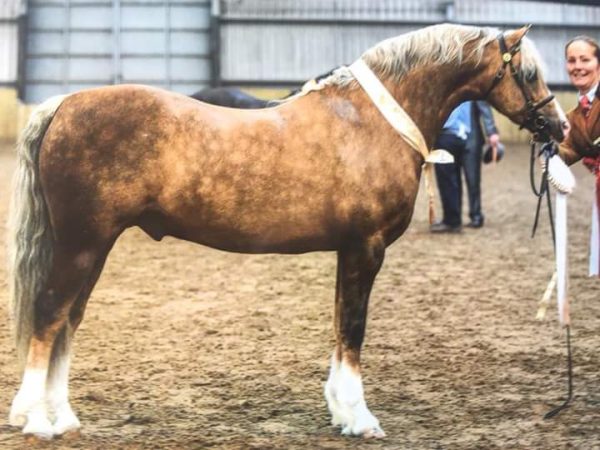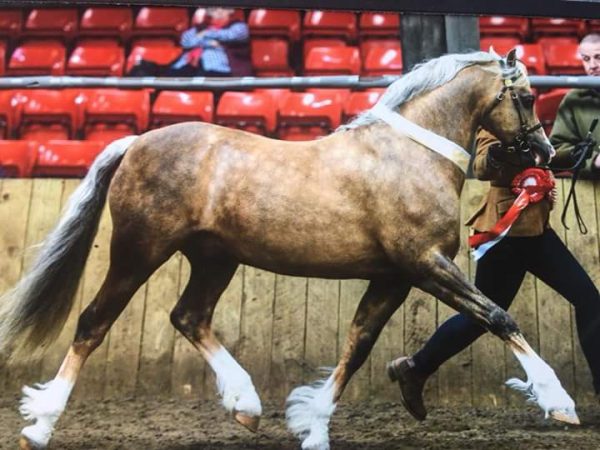 *****************
CADLANVALLEY GEORGIE BOY
SIRE NEWTONHILL NAUGHTY BOY CHARLIE DAM CADLANVALLEY GEORGETTE
ROYAL WELSH WINNER 2014 AND MULTI MEDAL WINNER SILVER AND BRONZE WITH MANY SUPREME CHAMPIONSHIPS TO HIS NAME
SIRING SUPERB STOCK MANY ARE CHAMPIONS AND MEDAL WINNERS
Sold as a foal to Goldenwood Stud and purchased back in 2018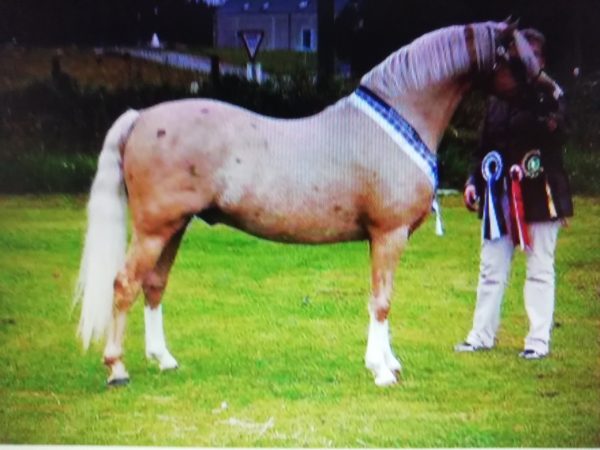 *********************
JANPETE TOM THUMB ( reference stallion only)
SIRE TIAVORIC LEGACY DAM CADLANVALLEY VENUS BY CADLANVALLEY REPLICA
WE ARE VERY GRATEFULL TO THE JANPETE STUD FOR LETTING US USE TOM AS AN OUTCROSS FOR OUR BUZBY SISTERS AND DAUGHTERS WE SHALL HAVE 8 FOALS DUE BY HIM IN 2024
HE HAS BEEN A MULTI CHAMPION AND SUPREME ON MANY OCCASIONS IN HIS YOUNGER YEARS HIS WINS ARE TO NUMEROUS TO MENTION
HE HAS ALSO BEEN A MULTI WPCS MEDAL WINNER INCLUDING GOLD SILVER AND BRONZE MEDALS
SOME OF HIS MOST NOTABLE WINS WAS AS A 3 YEAR OLD HE WAS YOUNGSTOCK CHAMPION AND RESERVE MALE CHAMPION AND GOLD MEDAL WINNER AT THE ROYAL WELSH SHOW IN 2014
AS A MATURE STALLION HE WAS 2ND IN THE STALLION CLASS AT THE ROYAL WELSH AND RESERVE MALE CHAMPION AGAIN IN 2017 ( ON HIS ONLY TWO APPEARANCES THERE )
WELSH B CHAMPION AND SUPREME OVERALL CHAMPION AT GLANUSK STALLION SHOW
ALSO A RIDDEN WELSH B FINALIST AT THE HORSE OF THE YEAR SHOW
HE IS SIRING NUMEROUS MEDAL WINNING STOCK AND WE EAGERLY LOOK FORWARD TO HIS FIRST FOALS HERE IN 2024
TOM AS ALLOWED US TO BRING IN SOME OF OUR OLD BLOODLINES THROUGH HIS DAM CADLANVALLEY VENUS AND HER SIRE CADLANVALLEY REPLICA WHO WAS BORN HERE IN 2004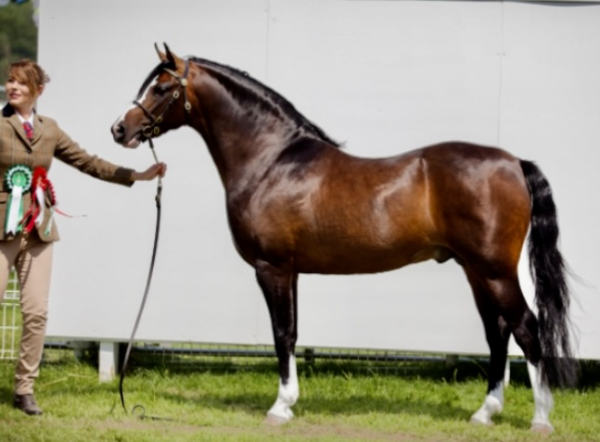 ***********************
REFERENCE STALLION SOLD TO THE USA 2022
BIRKINBROOK MASQUERADE
Sire Heaton Romeo Dam Birkinbrook Mint
Very succesSfully shown from a yearling to three year old winning several Bronze and Silver medals. (Pic as a 3 yr old)
Some of his wins include
2016 Midland  WPCS Show 1st and Youngstock Champion,Reserve Sec B Champion.1st and Champion Palomino
Home Counties WPCS 1st and Youngstock Champion ,Overall Section B Champion ,Bronze Medal Winner and Overall Supreme Youngstock Champion
2017 South East WPCA Spring Show 1st and Reserve Sec B Champion
Berks and Bucks 1st and Reserve Youngstock Champion
Eastern WPCA 1st and Youngstock Champion and Overall Section B Champion and Silver Medal Winner
Southern Counties WPCS 1st and Youngstock Champion Overall Section B Champion and Bronze Medal Winner and Reserve Overall Supreme Youngstock Champion
2018 Southern Counties WPCA Spring Show 1st and Reserve Youngstock Champion
2nd Lampeter Stallion Show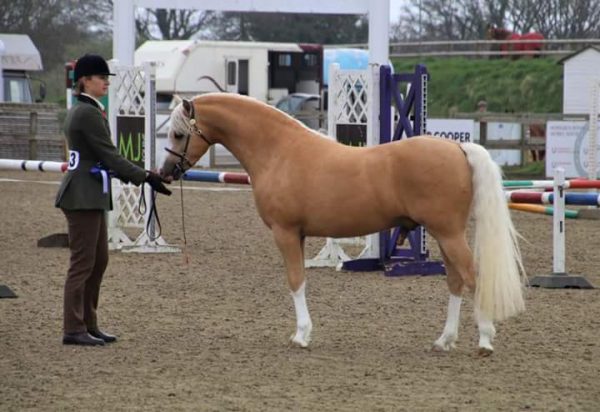 ******************
******************

REFERENCE STALLION SOLD TO HOLLAND 2023

WAXWING MASTERPLAN

Licenced colt   Born 2018

Sire Eyarth Beau Geste  Dam  Mynach Mimosa

Shown once 2nd Royal Welsh Yearling colt class beaten by Cadlanvalley Masterclass

Photo Vivien Hesen

Photo curtesy of Ruth Montgomery Law

***************