CADLAN VALLEY GEORGIA
SIRE: RUSSETWOOD ELATION DAM: STOCKHAM DOMINO BY ROTHERWOOD SECRET AGENT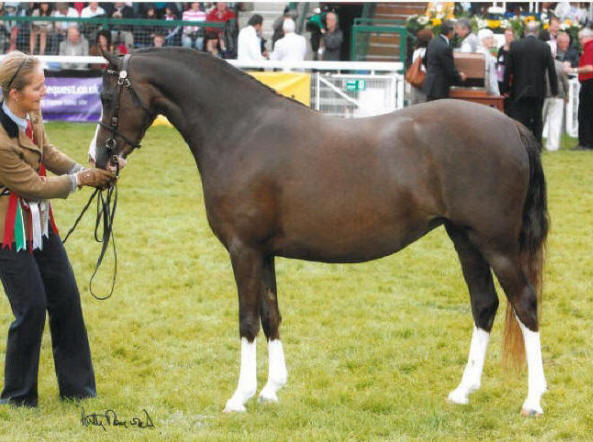 Photo By Anthony Reynolds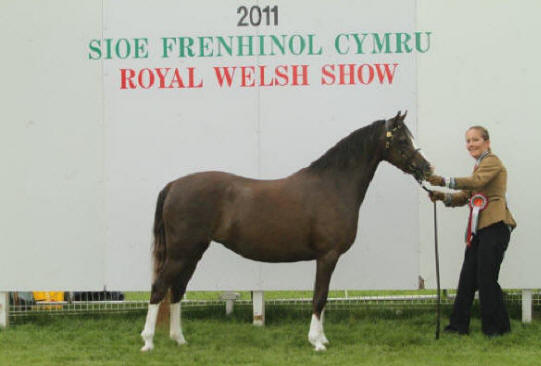 Photo By Theo Tenbrinke
ROYAL WELSH 2011
1ST 3 YEAR OLD FILLY
YOUNGSTOCK CHAMPION, FEMALE CHAMPION, OVERALL SECTION B CHAMPION
RESERVE TOM & SPRIGHTLY
RESERVE IN THE CUDDY
RESERVE SUPREME OF SHOW
Cardigan County
1st & Reserve Champion
WPCS International Show
1st 3 Year Old Filly
Welsh National Show-Malvern
Winner Of The Brightwell Youngstock Final
wins as a foal
1st Section B filly class Royal Welsh 2008
Champion Section B and Reserve Supreme Champion
Welsh National Foal Show
1st and Reserve Champion
Pembrokeshire County Silver Medal Show
Champion Section B Foal and Reserve Supreme
Ceredigion WPCA
Champion Section B Foal
Carmarthen WPCA
Champion Section B
Glamorgan Association foal show
Win as Yearling 2009
1st, champion and bronze medal at Fishguard show
1st at Glanusk show
1st at Cothi Bridge
1st at Aberystwyth show
1st at Cardigan County
1st at Ceredigion ass show
Wins as 2 Year Old 2010
1st 2 Year Old Filly
Reserve Young Stock Champion & Reserve Over All Section B at
Lampeter Stallion show-April 2010
1st & Reserve Youngstock & Reserve Overall Section B
Carmarthen WPCS Spring Show-May 2010
1st & Champion Section B & 1st & Reserve Overall NPS M&M Silver Medal Inhand Final
The Valley Show-June 2010
1st, Young Stock & Overall Section B Champion
Ceredigion WPCS Summer Show-June 2010
Pontardulais Silver Medal Show
1st & Reserve Champion Welsh section B
Cadlan Valley Georgette
Sire: Russetwood Elation
Dam: Stockham Domino by Rotherwood Secret Agent
1st and Young stock Champion Royal Welsh 2008
Wins 2009
1st and champion & bronze medal at Cardigan county
1st & reserve champion at Carmarthen association spring medal show
2nd at Glanusk
2nd at Aberystwyth
1st and youngstock champion at Ceredigion ass show
1st Cothi Bridge
Wins as a foal and yearling
2nd Royal Welsh

Champion Sec B Welsh National Foal Show
and Reserve Supreme overall

Champion Sec B Gwent Area WPCS Foal show
and Supreme Champion overall

Reserve Champion Sec B
Royal Welsh Winter Fair
and
Supreme Champion welsh foal all sections

1st Section B yearling filly
Youngstock Champion and
GOLD medal winner – Royal Welsh 2008

Reserve Champ Sec B Lampeter Stallion Show
Best Sec B female and Supreme female Champion all sections

Champion and Silver medal winner
Aberystwyth show

Champion and Bronze medal winner
Ceredigion WPCS Association show
Telynau Royal Gala
Sire: Eyarth Rio, Dam: Geufronuchaf Miss Royal by Eyarth Musketeer, Highest priced mare at the 2013 Fayreoaks Sale
Multi champion & Medal winner
2nd Royal Welsh & Brightwells National Champion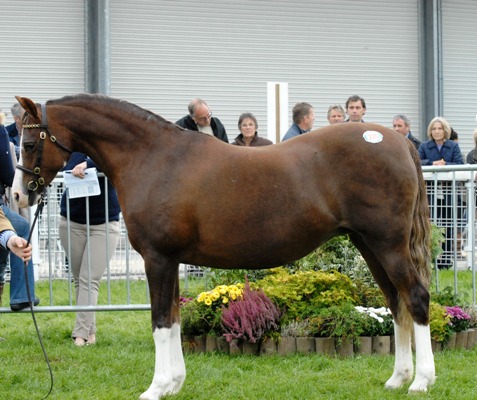 photo by Robert Jones
Waxwing Penny Precious
By Eyarth Beau geste x Millcroft Pleasure by Millcroft Royal Lustre successfully shown as a youngster.
Cadlan Valley Popcorn

Born 2008

Sire: Boston Bonaparte
Dam: Cadlanvalley Painted Lady
by Linksbury Jester

NPS Area 29
1st and Section B Champion

Royal Welsh Winter Fair
1st Section B filly foal

Royal Welsh
4th 2 Year Old Filly Class

Llanedi Bronze Medal Show
1st & Reserve Champion

Photo by Anthony Reynolds
CADLAN VALLEY MISS PRIM
SIRE CADLAN VALLEY BUZBY DAM WAXWING PRINCESS ROYAL BY MOELVIEW MOHAWK
Palomino Filly Born 2014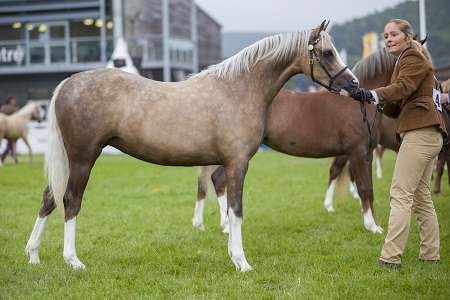 Photo By Marcel Breebart
Reserve Youngstock Champion Cheshire County 2016
2015
1st Royal Welsh
1st Glanusk,best yearling and Res female.
1st and Champion NPS Area 29 and Bronze medal.
1st Welsh National Championship Show and Reserve youngstock Champion
1st and Champion West Wales Extravaganza Show
2014
Shown once being 2nd at Royal Welsh Winter Fair
CADLAN VALLEY PRINCESS CAMILLA
SIRE:EYARTH TROY DAM: CADLAN VALLEY ANGELICA BY CADLANVALLEY REPLICA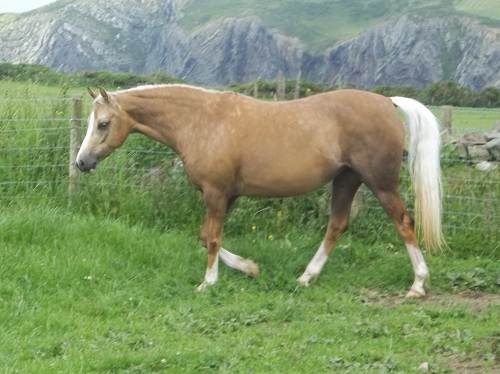 Champion Section B, Bronze Medal Winner & Reserve Supreme of Cardigan County Show-2012
2nd NPS Summer Champs
Cadlanvalley Penny Royal
Chestnut mare born 2013
Sire Cadlanvalley Buzby Dam Waxwing Princess Royal
Champion filly with numerous successes as a foal and yearling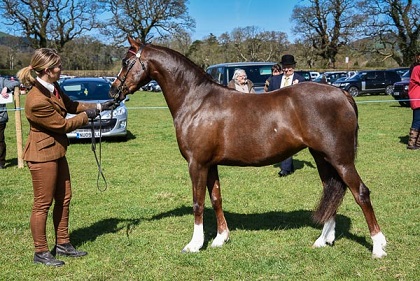 CADLANVALLEY SWEET ELATION
SIRE RUSSETWOOD ELATION DAM BLUE ROCK BRAMBLE
Palomino mare born 2013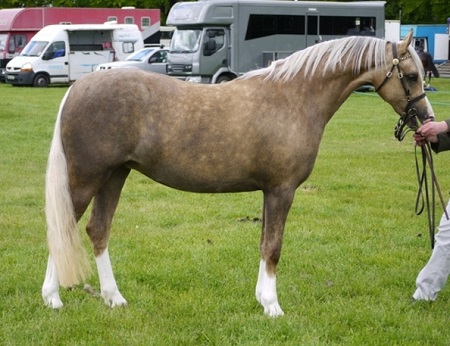 Photo By Alison Walker
2015
Won on all 3 occasions as 2 Yr old
2014
1st & Champion Brechin spring Show
1st SWPCA Medal Show
1st & Res Champion Fife Agri show
4th Royal Welsh
1st & Reserve Youngstock Scottish All Welsh
2014
Champion Foal,Overall Youngstock and Supreme of show SWPCA
Pendock Pennyworth
Sire: Lindisfarne Guardsman
Dam: Pendock Penny Lane by Duntarvie Nominator
Huge Winner with the Hawkins Family as a M&M F/R, some of her wins are as follows
Hoys 2008 2nd
HOYS 2009-2ND
HOYS 2010-7TH
RIHS 2009 1st & Champion
2010 1st & Champion
NPS 2008 1st Simpson ries Novice FR Final
NPS 2008 1st & Reserve Champion Micro Demolition Final
NPS 2009 1st Micro Demolition Final
Welsh National Championship Show
2008 1st Brynseion FR Final
Brynseion Final 2009 – 1ST
Brynseion Final 2010 – 1ST
Westaire Sienna
BORN 2014
Sire Laithehill Oberon dam Westaire Savannah by Stoak Tyrol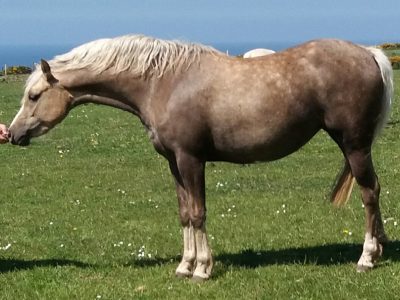 Consistent winner as a yearling and two year old including WPCS Bronze medal winner.
Hilin Serena
Sire: Carrwood Orpheus Dam: Hilin Seren-y-Bore by Hilin Caradus
Multi Champion Medal Winner
2nd RWAS Junior Mare 2011
Waxwing Princess Royal
Sire: Moelveiw Mohawk Dam: Llangethio princess Royal by Llangeithio Sovereign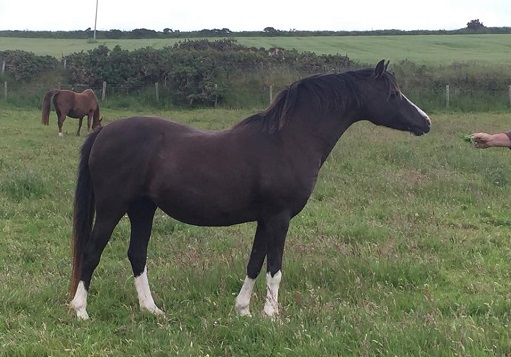 Royal Winner Winner as a 2 Year old
2nd Royal Welsh-2008
Bronze Medal Winner
Multi Champion Winner.
Stockham Carole
2009 filly
Sire: Lemonshill Topnote
Dam: Horsegate Saphire by Horsegate Ambassador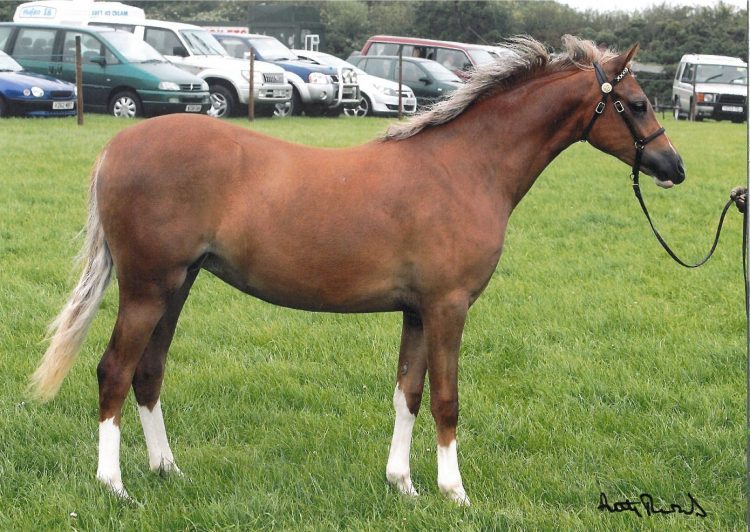 Photo as a yearling by Anthony Reynolds
1st & Champion Section B-Pembroke County-Silver Medal Winner
3rd Royal Welsh as 3 yr old filly
1st & Reserve Champion Tivyside Bronze Medal Show
CADLAN VALLEY JORGIE GIRL
RUSSETWOOD ELATION X STOCKHAM DOMINO BY ROTHERWOOD SECRET AGENT
PALOMINO FILLY 2012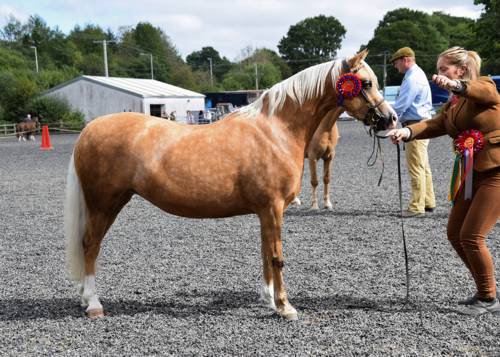 Photo By Lynneann Cameron
Champion Carmarthern Assoc Autumn Show 2016 Gaining Her Bronze Medal/p>
Shown once 2015 1st Ceredigion WPCS Summer show
Mynach Sea Lavender
2 yr Old Filly
by Moelveiw Masquerade Dam Mynach Oceana by Eyarth Beau Geste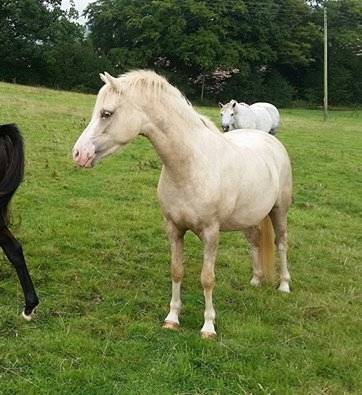 Cadlan Valley Elouise

Sire: Millcroft Copper Lustre
Dam: Weston Louisa by Weston charmer

Champion Section B and Bronze Medal Winner
Fishguard Show 2008

photo by Event Photography
Elouse is again a true welsh type, only lightly shown but a Champion as a foal and broodmare and a medal winner. full sister to CV Replica, Dam of CV Cardinal, stud stallion at the Northern Cross stables in Canada.
Cadlanvalley Mimosa

Cremello Mare

Sire: Newtonhill Naughty Boy Charlie
Dam: Laithehill Mimosa By Heaton Romeo
SHAMROCKLAKE IRISH CORN FLOWER

13.1hh

Sire: Haford yr Esgob Buzby
Dam: Eyarth Isadora by Brookhouse Chuckler

This mare is 3/4 sister to Eyarth Rio, top priced Section B Mare at the Fair Oaks 2011 Sale
Stockham Domino

Sire: Rotherwood Secret Agent
Dam: Stockham Skylark
by: Twyford Signal

Big Winner in hand & under saddle Twice 1st Royal Welsh as a 2yr old and Barren Mare, 1st Devon County, 1st NPS, Three Counties etc 1st PUK Ridden plus many mare Championships under saddle.

Dam Of Sandpiper, Georgette, Georgia, Buzby, Bently & Dominique,Jorgie Girl,Georgianna.

Photo as a 2y.o by Anthony Reynolds
Telynau Firefly

Sire: Eyarth Rio
Dam: Starlyte Fairy Footsteps by Downland Manarin

Supreme Champion, Multi medal winning mare, wins include 1st Royal Welsh.

Dam of , Russetwood Elation & Cadlanvalley Rio
Waxwing Matinee

Cream Mare

Sire Eyarth Beau Geste
Dam Wedderlie Martina By Eyarth Rio
Telynau Ophelia

Palomino Mare

Sire Eyarth Mercury
Dam Telynau Opera By Eyarth Rio
Mynach Sea Breeze

Chestnut Mare

Sire Moelview Mohawk
Dam Mynach Oceana by Eyarth Beau Geste
Barrdene Cleopatra

Sire Moelview Mohawk
Dam Eyarth Beca by Carwed Charmer

Highest Price Mare at Fayre Oaks 2014.

Successfully shown as a Ridden M & M by Emmerson Show Team.
CADLAN VALLEY ANNALISA

SIRE :BOSTON BONAPARTE DAM: CADLAN VALLEY PAINTED LADY BY LINKSBURY JESTER

2013 Results

LAMPETER
1st Sec B yearling filly
Best Overall Sec B Yearling

NPS Area 29
1st Sec B yearling filly
Reserve Overall Sec B Champion

1st, Champion & Reserve Supreme Glamorgan WPCS Foal Show

1sr & Reserve Champion NPS Area 29

2nd Royal Welsh Winter Fair

Fishguard show
1st sec B yearling, overall B champion winning bronze medal

 
Byley Adele

by Eyarth Tayma Dam Eyarth Alaw by Eyarth Tomahawk
Waxwing Lily Lapwing

by Eyarth Beau Geste Dam Cottrell Lapwing by Rotherwood State Occasion