WE HAVE A LIST YEARLY FOR PEOPLE INTERESTED IN OUR FOALS, IF YOU WOULD LIKE TO BE ADDED FOR THE 2018 LIST PLEASE DO GET IN TOUCH WITH NO OBLIGATION
FOR SALE TOP NOVICE RIDDEN B details below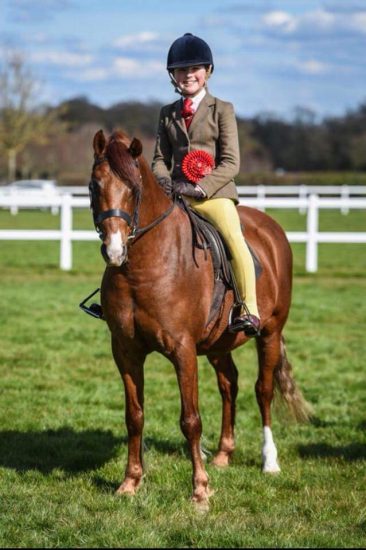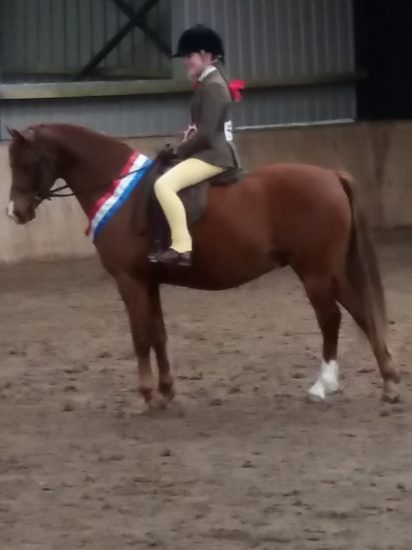 FOR SALE TOP NOVICE RIDDEN WELSH B
CADLANVALLEY VALEGRO 5 YEARS 13 HANDS CHESTNUT GELDING
Sire Russetwood Elation Dam Stockham Domino
Full brother to a very succesfull ridden family Cadlanvalley Buzby HOYS Ridden Champion ,Bentley , Jorgie Girl ,Bojangles all HOYS Finalists and three quarter brother to Cadlanvalley Sandpiper HOYS Winner Twice and Olympia Champion ,and Royal Welsh in hand Champions Cadlanvalley Georgia and Georgette .
Sid has huge movement ,three lovely balanced paces and with his generous kind and willing temprement he will without a doubt have a very succesfull ridden career ahead.
He has attended 3 shows and he has taken everything in his stride and behaved years ahead of himself, he is a natural who enjoys his work, loves people around him and he has won on every occassion and being the only one in his class ridden by a child.
Sid is the type of Section B with depth substance and bone that could easily expire into lots of different feilds from M & M Junior /Opens to 13 hds SHP, he is also happy to pop a pole so great potential as a WHP or with his natural elevated paces a dressage pony.
He is 100 % to handle catch clip travel farrier etc.
Only for sale as Libby cant ride them all in the same class.Sensibly priced to knowledgeable home.
1st & Novice Champion BSPS Mid Wales
1st Novice Ridden A & B Hereford Marches BSPS Area 9 b
1st Pure Novice Final NPS Spring Festival
1st & Reserve Champion Picton Qualifier NPS Spring Festival
Only time shown,enquieries welcome.
Foals 2018
FOR SALE chestnut colt foal both Sire and Dam Royal Welsh winners.
Sire Cadlanvalley Georgie Boy Dam Cadlanvalley Miss Prim
Real welsh colt foal with bone ,gorgeous head and perfectly marked with four whites and blaze.      SOLD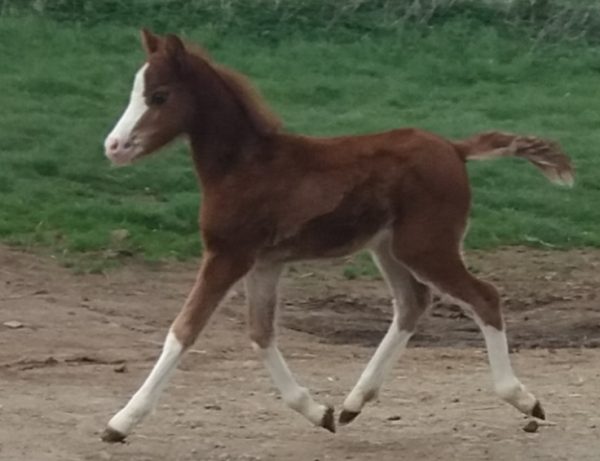 ************
FOR SALE palomino filly
Sire Cadlanvalley Cherokee Dam Cadlanvalley Georgia
Big substantial filly again with a lovely head and markings her dam is a Royal Welsh Champion.       SOLD

************
FOR SALE Chestnut filly
Sire Cadlanvalley VIP Dam Cadlanvalley Penny Royal
Beautiful dark chestnut with four white socks and blaze , a good size filly and both parents big winners. (Pics to follow)
************
Foals 2017
Cadlanvalley Miss Autumn

sold

Chestnut filly

Sire Mynach Sea Scout
Dam Telynau Ophelia

Autumn foal so will be ready to leave early 2018
Cadlanvalley

Total Elation

Palomino colt

Sire  Russetwood Elation
Dam Hilin Serena

Retained
Cadlanvalley Sea King

SOLD TO BELGIUM

Palomino colt

Sire Mynach Sea Scout
Dam Cadlanvalley Georgia
Cadlanvalley St George

SOLD

Chestnut colt

Sire Mynach Sea Scout
Dam Cadlanvalley Georgette
Cadlanvalley The Bling King

SOLD

Chestnut colt

Sire Mynach Sea Scout
Dam Telynau Royal Gala
Cadlanvalley Miss Precious

RETAINED

Chestnut filly

Sire Cadlanvalley Buzby
Dam Waxwing Penny Precious
Cadlanvalley Topman

SOLD

Chestnut colt

Sire Russetwood Elation
Dam Cadlanvalley Popcorn
Cadlanvalley Sea Hawk

SOLD

Palomino colt

Sire Russetwood Elation
Dam Stockham Honey
Cadlanvalley Penny Whistle

SOLD

Chestnut colt

Sire Mynach Sea Scout
Dam Pendock Pennyworth
Cadlanvalley Copper King

SOLD

Chestnut Colt

Sire Cadlanvalley Buzby
Dam Waxwing Princess Royal
Cadlanvalley Buzz Lightyear

RETAINED

Palomino Colt

Sire Cadlanvalley Buzby
Dam Stockham Carole
Cadlanvalley Illusion

SOLD

Cremello filly

Sire Mynach Sea Scout
Dam Cadlanvalley Mimosa
Cadlanvalley Jubilation

RETAINED

Palomino filly

Sire Russetwood Elation
Dam Stockham Domino
Cadlanvalley Oceanna

Sold to Belgium

Chestnut Filly

Sire Russetwood Elation
Dam Mynach Sea Breeze
Cadlanvalley Dundee

SOLD

dun colt

Sire: Cadlanvalley Buzby
Dam Barrdene Cleopatra
Youngstock
 Cadlanvalley Teddy Edward

SOLD

3 years grey gelding

To make 13 hands

Sire Cadlanvalley Buzby
Dam Millcroft Mufti
Ridden
Quinton Romeo

SOLD TO HOLLAND

Welsh B 12 hands chestnut gelding 4 years

Sire Russetwood Elation
Dam Telynau Dior

Very level headed and sensible for a 4 year old, has got the most lovely temprement. Done beach rides, dressage and competed at two shows and both he won. Good to catch, box, farrier etc. Only for sale as Libby has too many ponies to ride, so we feel his potential is wasted here. Would also make a fab 12 hands SHP. Realistically priced and can help with transport. We have plenty of videos of him competing so please ask. Contact myself or Hayley on 01239 621573 or 07791153780

 
Foals 2016 – All Sold
All foal photos below on this page by Sian Broderick
Palomino Filly

By Russetwood Elation x Stoakham Honey by Rotherwood Secret Agent

SOLD
Chestnut Colt

By Cadlanvalley Rio x Waxwing Princess Royal by Moelview Mohawk

SOLD
Chestnut Filly

By Mynach Sea Scout x Telynau Royal Gala By Eyarth Rio

SOLD
Palomino Filly

By Russetwood Elation x Waxwing Penny Precious by Eyarth Beau Geste

Sold
Palomino Colt

Cadlanvalley Rio x Cadlanvalley Mimosa by Newtonhill Naughty Boy Charlie

SOLD
Bay Filly

Cadlanvalley Rio x Barrdene Cleopatra by Moelview Mohawk

SOLD
Chestnut Filly

Russetwood Elation x Cadlanvalley Popcorn by Boston Bonoparte

SOLD to Ireland
Chestnut Colt

Mynach Sea Scout x Cadlanvalley Georgia by Russetwood Elation

SOLD
Chestnut Colt

Russetwood Elation x Mynach Sea Breeze by Eyarth Beau Geste

SOLD
Cremello Colt

Cadlanvalley Buzby x Shamrocklake Irish Cornflower

Retained
Palomino Filly

Mynach Sea Scout x Cadlanvalley Georgette by Russetwood Elation

SOLD TO SCOTLAND
Chestnut Filly

Russetwood Elation x Stockham Carole by Lemonshill Topnote

SOLD
Chestnut Colt

Russetwood Elation x Cadlanvalley Annaliza

SOLD
Chestnut Colt

Mynach Sea Scout x Pendock Pennyworth

SOLD TO GERMANY
Chestnut Filly

Mynach Sea Scout x Waxwing Matinee by Eyarth Beau Geste

SOLD TO GERMANY
Palomino Filly

Russetwood Elation X Cadlanvalley Princess Camilla

SOLD
Palomino Filly

Russetwood Elation x Hilin Seren

SOLD
Palomino Filly

Russetwood Elation x Hilin Serena

SOLD
Cremello Colt

Mynach Sea Scout x Telynau Ophelia

SOLD TO AMERICA
Palomino Colt

by Russetwood Elation X Cadlanvalley Elouise

SOLD